There is a dystopian future where the government takes pride in being called Kafkaesque. They make rules that create discord and drive the citizenry crazy. They throw half the world's population into prison. Inside those prisons, the people are treated like less than cattle. One of their punishments? They have to eat the food of Fiji Airways.
Too much?
Okay, it's not that bad. But it's not good either. I am a staunch defender of airline food, but what Fiji Airways served me last week is abhorrent. That means really, really bad, bro. It felt like the food served on the flight was purchased from the close-out section of a school cafeteria superstore.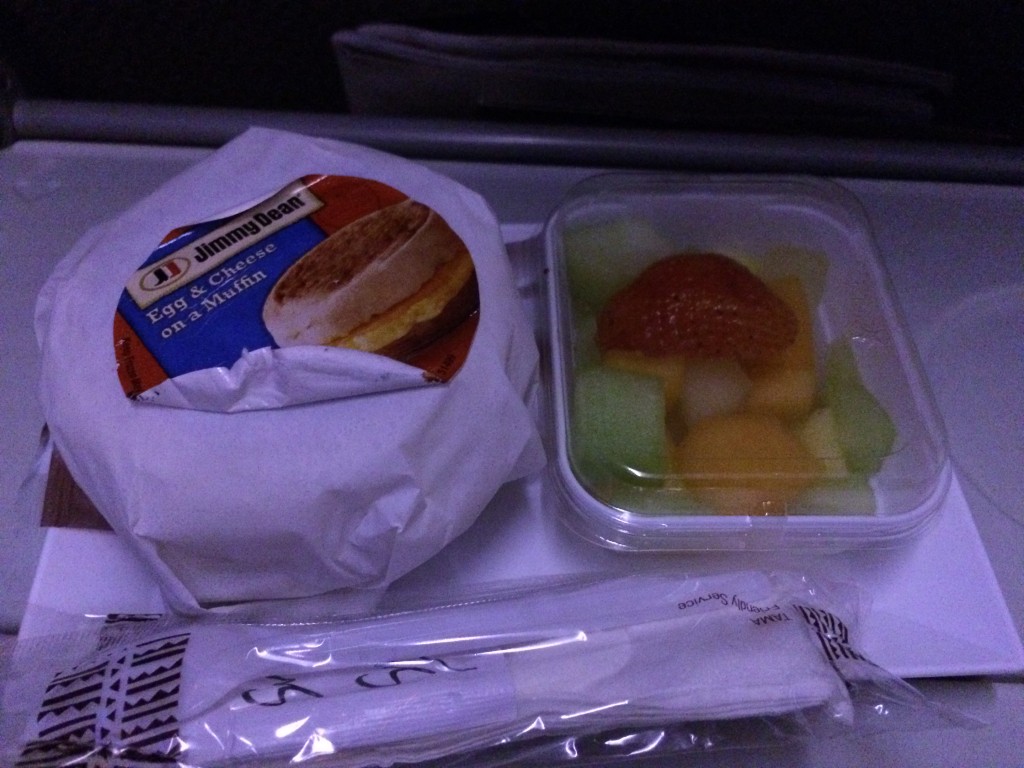 On my initial flight from LAX to Nadi, Fiji (NAN) in economy, the flight took off at 10:30pm, which meant that I was asleep when the first snack was served. I assumed that meant a full breakfast was waiting for me on the other side of dreamland, but I was mistaken. Roughly an hour and a half before landing, they brought out the Jimmy Dean. Yes, that Jimmy Dean. We all received Jimmy Dean egg and cheese breakfast sandwiches. The same kind you can buy in your grocer's freezer. If you opt for the "vegetarian option" as my girlfriend did (despite the fact that an egg and cheese sandwich is vegetarian), you got a tortilla full of mush. I still haven't figured out what the mush was. Here's the amazing part: this was the BEST meal we were served on our round-trip to Fiji.
In economy on the way back from NAN to LAX, the flight took off slightly earlier so I was able to indulge in both the meal at night and breakfast before we landed. Let's handle them chronologically, shall we?
That's chicken. Or at least they said it was. The yellow bits are pineapple. The gray slurry is a mystery to me. When I saw that coming out, I asked for the vegetarian option (on Fiji Airways, they just ask which you'd like instead of making you order ahead — or at least that's how this particular flight worked). The veggie option was cheese and pineapple on that same torpedo bun.
Mmmmmm! Those are the letters that start the sentence "Mmmmmmmaybe they were playing a joke on us?" Cheese, pineapple, bread: all ingredients that are great on their own, but not great when they're combined in this particular way. It's not that this was terrible. It wasn't. It's just that I would rather have something resembling a normal meal instead of a hobo snack (no offense to hobos). A greasy cheesy stoner sammie isn't exactly what I want to eat on an airplane right before I go to bed.
Breakfast was more elaborate. A cup of vanilla yogurt, a cup of juice, a roll (?), some cookie cracker biscuit things, and then the main course: an "omelet." I thought omelets had to have ingredients, but in this case it was a giant egg mass with mushrooms and some kind of hot salsa.
There's a problem when the best thing in the foil container are the mushrooms. The eggs were spongy and gross, the salsa was the food equivalent of unintelligible, and the mushrooms were mushrooms. I gave up after two bites and went for the yogurt. All in all, a very disappointing meal.
I don't get it. Fiji vowed to improve their food after customers complained about it regularly. If this is the upgrade, I hate to see what they used to serve. Over all, this was a giant mess. Fiji isn't known as the best airline in the world and they're certainly not going to get that way if they keep serving food like this. A little extra effort goes a long way and I hope FJ decides to take a long look at their F&B program.